Opelousas Downtown Development District
---
Mission Statement
The Downtown Development District in collaboration with other local public and private entities is devoted to building leadership, progressing, and serving as the catalyst for economic growth and development in Downtown Opelousas. The DDD will encourage cooperation and collaboration by advancing a positive image of downtown and to plan and develop the designated commercial district to its potential, through economic development and historic preservation.
DDD Long-Term Priorities
Improve and enhance pedestrian and bicycle accessibility within and into the downtown area
Improve and enhance lighting and security through downtown corridor arteries
Improve and enhance the aesthetic appearance of the downtown corridor arteries
Identify and advocate for 1-2 anchor building redevelopment projects in the downtown core
Spearhead the completion of a long-term downtown strategic growth plan
Improve and enhance Broadband infrastructure and capacity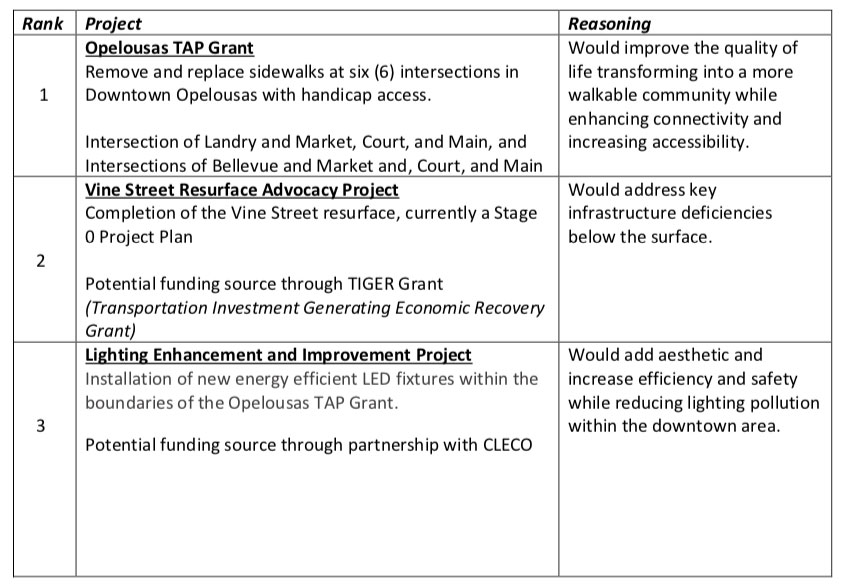 View the Tax Chart (link does not work)
View the Map
The DDD map identifies the district boundaries as well as the parcels that have been identified as the spending districts.
Frequently Asked Questions
1.) What is a DDD?
DDD stands for a Downtown Development District. It is a board authority that is created through the state legislature.
2.) How is the Opelousas DDD board made up?
The DDD for Opelousas will be made up of seven appointed members. These members will be non-paid board appointees. They are appointed as follows:
One -- State Senator, District 24
One -- State Representative, District 40
One -- St. Landry Parish President
One -- City of Opelousas Mayor
One -- Opelousas Council
One -- Vision St. Landry
One -- St. Landry Economic Development
3.) Why are DDD board members appointed from so many different groups?
The future success of Downtown Opelousas is important to not just Opelousas, it is important for the future of St. Landry Parish. By getting appointments from a large diverse group, the downtown effort will get more support from state, regional and parish resources.
4.) Must members of the board be Opelousas residents?
Some members must be, depending on the appointment, but all must St. Landry Parish residents.
5.) Are there any specific requirements, or skills required for board members?
In some cases, yes, for example, one must have a background in engineering, community planning, or a related field.
6.) What does the DDD do?
The DDD is required to invest in projects and improvements that will make a more secure, more appealing and an overall better business and living climate within its boundaries.
7.) What is the area of responsibility of the DDD?
The DDA is identified as a very specific area to which funds can be invested through the DDA. Please see the highlighted boundaries on the DDA map, Exhibit A. This boundary is highlighted in yellow. Special Taxing Districts are highlighted separately but are included in the overall DDA Boundary.
8.) How is the DDD funded?
The DDD is funded by one percent being added to the sales tax within the identified DDA Special Taxing Districts within the boundary.
9.) How do I find out if my business will be required to collect that one penny for the DDD?
There are only six existed businesses that are included in Special Taxing Districts.
10.) Will the Special Taxing Districts create additional tax burden that my business will need to pay?
Only the businesses in the special taxing districts will collect the one penny on sales and remit it through the normal sales tax collection process.
11.) Do the monies collected in the Special Taxing Districts affect any existing sales tax dedicated for Opelousas or St. Landry Parish.
No, all existing city and parish sales taxes are collected and distributed in the same manner.
12.) Do the monies collected for the DDD go to the City of Opelousas General Fund?
No, these funds are collected by the parish designated tax collection authority and deposited into a separate account for dedicated local use.
13.) Do the monies collected for the DDD go to the State?
No, the one extra penny will be collected by the parish tax collection authority and deposited into a separate account for dedicated local use.
14.) Can these funds be spent on other uses or other projects around Opelousas?
Eight percent of the funds are allowable to be spent for administrative operation of the DDA board and economic development. The DDA must spread all other money in their area, ninety-two percent.
15.) What are some examples of how the funds will be spent in the district?
Some examples are roadway improvements, which in many cases may have matching grant funds available through state and federal DOTD. Infrastructure improvements, such as replacing water and wastewater lines under Landry Street as part of a needed resurfacing project. More and better quality lighting that will provide enhanced security. Streetscape projects; accessible sidewalks and improved parking are just some of the things that will be improved on the downtown corridors.
16.) How will the board be managed and operated?
St. Landry Economic Development will be charged with establishing, maintaining and operating the structure of the DDD board. This includes bearing all administrative costs, such as office and overhead expenses, bookkeeping and accounting, audits, legal, staff support, etc. Once established, the DDD can begin to take over some of these functions but is not required to do that.
17.) How long will the DDD be in place?
There is no time limit on the DDD being in place. Many of the projects they will be investing in will be long-term initiatives, so it will be important to build a quality leadership driven board over time.
18.) Will the meetings of the DDD be open to the public?
Yes, the DDD will be a quasi-public body so its board meetings will be open to the public input.
19.) Will the DDD get input from businesses in the district on what are important priorities in downtown?
Yes, getting business input and participation from in the district will be important priorities for the DDD to be effective. At least one of the board appointees must be a business owner in the district.
20.) Will the DDD get input from existing groups that work on behalf of downtown?
Yes, getting input and participation from organizations such as Main Street and Opelousas Tourism will be another important priority. At least one of the board appointees must be a representative of at least one of these existing downtown groups.
Bill Rodier
Executive Director
Staff
Overall economic development strategy, Long-range planning and Community Developer for St. Landry Parish.
Brandy Ledet
Economic Development Specialist III
Staff
Project management, Communications, Research, Board Liaison, Community-wide Initiatives and Organization Operations.
Lorna Guynn
Planner
Staff
Nick Gautreaux
Governmental Affairs
Staff
Bruce Gaudin
Attorney
Staff, Board
Jim Bradshaw
Multimedia Writer
Staff
Dana Quebodeaux
Accountant
Staff
View staff by department:
Board Council Opelousas Downtown Development District Staff Vision St. Landry