Opelousas Breaks Ground Ahead of Development
Tuesday, June 22, 2021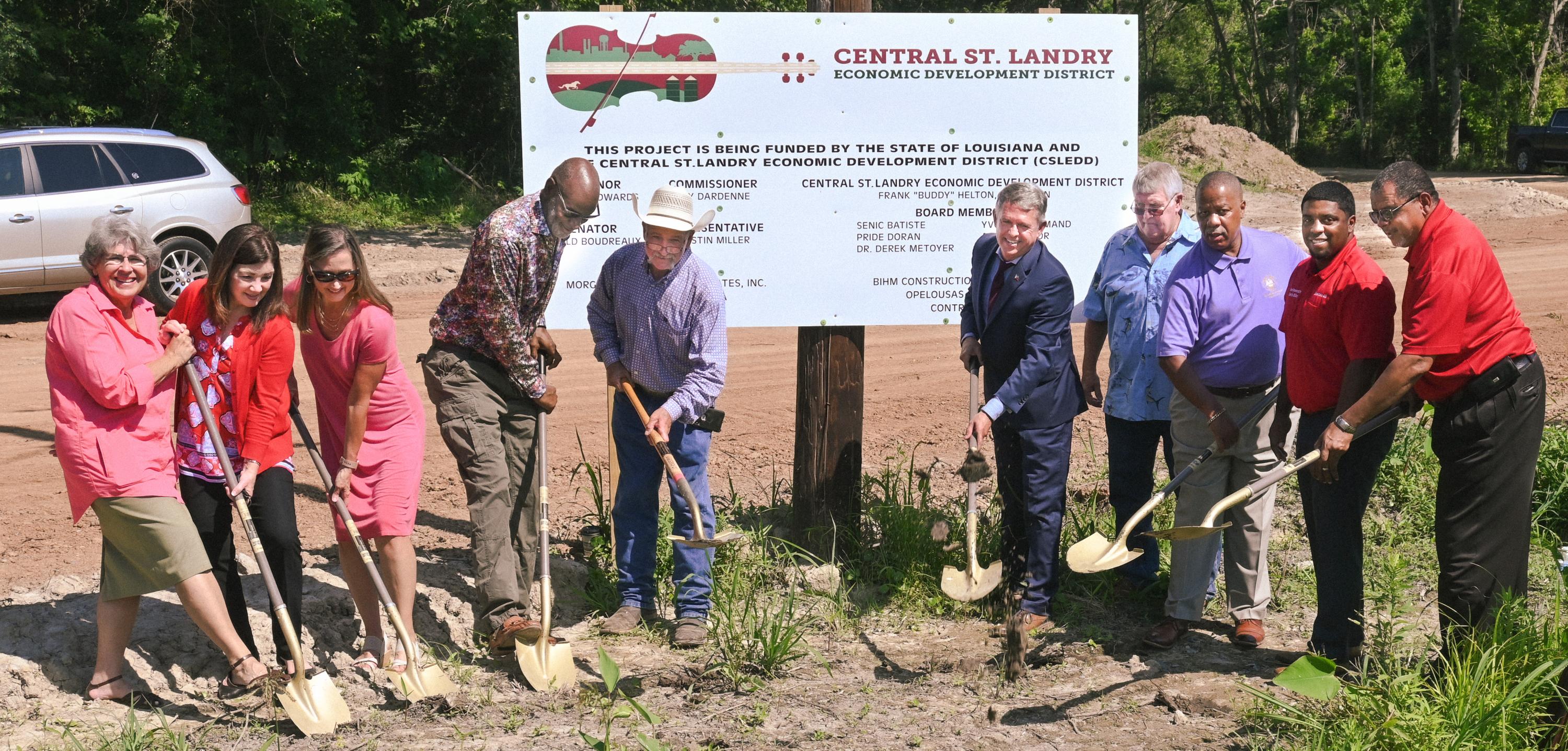 OPELOUSAS - Growth along the I-49 corridor in Opelousas is prompting the construction of a new wastewater treatment facility. A groundbreaking ceremony was held on Wednesday June 16, 2021 at the plant's site next to the Bayou Callahan bridge on the I-49 South Service Road, near the entrance to Clos du Bois subdivision. This project is the result of a partnership between The City of Opelousas and The Central St. Landry Economic Development District (CSLEDD), an economic development district created for the promotion and expansion of the I-49 corridor in Opelousas.
The plant, which is located on the south end of the CSLED District, will have an initial capacity of 150,000 gallons of wastewater per day with potential to be doubled should there be a need in the future; the first phase of this estimated $4.5 million project includes line infrastructure for four strategically positioned lift stations, according to CSLEDD board chairman Frank (Buddy) Helton.
"This new infrastructure asset will support the current commercial and residential growth happening in the area – these new roof tops will serve as catalysts for accelerated future retail and restaurant development," says Bill Rodier, St. Landry Economic Development Director.
The contract for this project was awarded to BIHM Construction Co. who estimates completion by the end of 2021. Funding is made possible through state capital outlay funds that are being matched by CSLEDD district funds. State Senator Gerald Boudreaux and District 40 Representative Dustin Miller were instrumental in guiding the state appropriation for capital outlay funds through the legislature, Helton said.
The system will initially provide service to the west side of I-49 at the Harry Guilbeau interchange, upon completion however, all quadrants of this high growth area will be included in the facility's service area. This new plant will relieve pressure on existing wastewater infrastructure and will be operated and maintained by The City of Opelousas.
Opelousas Mayor Julius Alsandor applauded the work of the district and noted that these kinds of collaborative partnerships are priorities for his administration to help foster growth. He pointed out that is only the beginning of some incredibly positive developments for the city in its new path of resurgence and growth.
The groundbreaking represents a core of the CSLEDD mission to develop the I-49 corridor and adjacent areas in the heart of the parish, Helton said. To be competitive, it is "absolutely necessary" to provide the infrastructure that will attract and stimulate development, including fiber optic connectivity, good roads, a reliable water supply and additional wastewater capacity.