SLED Provides Critical Public Infrastructure Support to One of the Region's Top Employers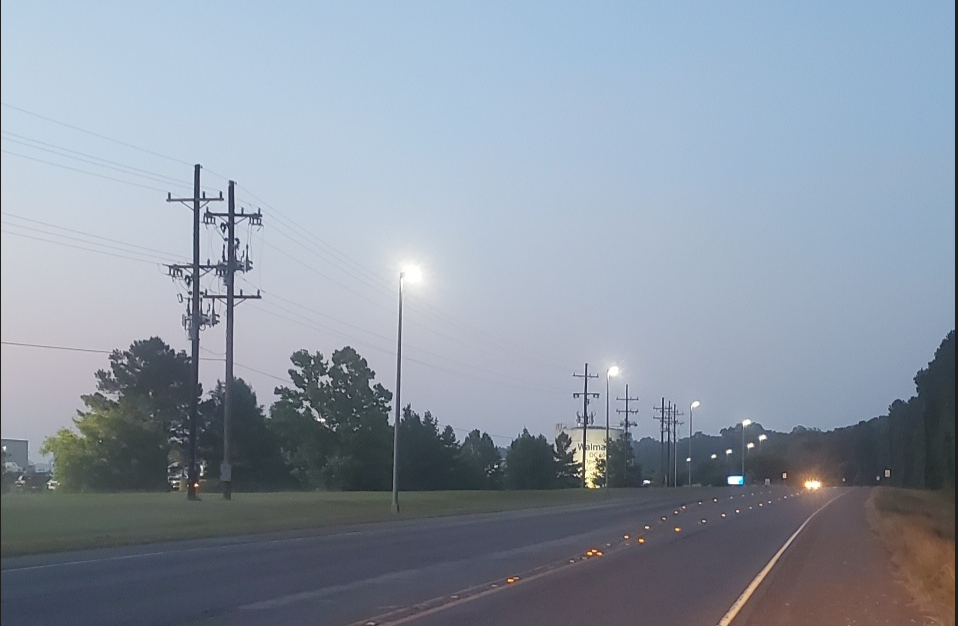 Opelousas, La. – St. Landry Economic Development (SLED) announces the culmination of infrastructure improvement projects targeted to assist one of the region's top employers, the St. Landry Parish Wal-Mart Distribution Center. The first phase of the project required a retrofit and upgrade to all the lighting on the Highway 744 distribution center access road. For many months, Walmart Distribution Center employees, as well as hundreds of daily semi-tractor trailers were driving through total darkness to reach the 1.3 million sq ft 24-hour operation distribution center. After discussions with senior leadership at the facility highlighting the risks this posed for DC employees, SLED decided to proactively step in with this lighting infrastructure safety enhancement on the state highway. In addition, SLED, in cooperation with LA DOTD also partnered on repairs for the critical entry drive to the distribution center which accommodates up to 400 tractor trailers per day entering and exiting the facility. Prior to the repair, the deterioration and subsidence of the drive was on the verge of making the center inaccessible for this essential semi-traffic.
"SLED puts a strong priority on taking care of our existing employers by ensuring they have adequate public sector infrastructure resources. As one of our largest area employers, we are happy to work with the Walmart team to provide this kind of infrastructure support for the distribution center that is complimentary to their current operations, while providing a secure environment for their employees, and that promotes their future growth," said Bill Rodier, CEO of St. Landry Economic Development.
Arturo Guizar, Walmart Distribution General Manager, said "The lights and the drive access have been greatly appreciated by our associates, as well as our transport drivers. This has helped create a workplace that is safe and a facility that associates can be proud of which is one of the many reasons our company has been officially certified as a "Great Place to Work" by the industry leader in workplace excellence." "Special thanks to Bill Rodier, St. Landry Economic Development CEO, and the St. Landry Parish team that made this happen for us. Our mission is to "Save people Money so they can Live Better", and that is only possible by having great associates. We look forward to the partnership with St. Landry Economic Development and the impact we can have in our local communities, says Arturo Guizar."
The SLED Group is committed to leading innovative progress through the creation and implementation of forward-looking economic and community development strategies designed to stimulate investment and facilitate growth. SLED acts as a conduit to help businesses, developers, investors, entrepreneurs, citizens, communities, and other stakeholders interested in the economic growth of St. Landry Parish get connected to value added resources and opportunities.
The St. Landry Parish Walmart Distribution Center employs approximately 1100 employees and is a part of a distribution network system that ships general merchandise to its Walmart and Sam's Club stores. This center has more than 1.3 million square feet under roof and services more than 119 retail store locations.
More Topics
Opelousas Downtown Development District (ODDD), an economic development organization that invests in programs and projects that will improve the quality of life in Opelousas, voted this morning to secure a bond to help pay for major renovations at South City Park's Donald Gardner Stadium, a hub of highschool football in...